Rockwall HVAC Company 27+ Years Repairing Units
No matter where you live, keeping cool in the summer and warm in the winter is a major concern and an HVAC repair contractor plays a key role in climate controlled comfort. An HVAC repair company installs, maintains and repairs heating, ventilating, and air conditioning systems and related equipment. The right Rockwall HVAC contractor is as essential to the success of your system's function as buying the proper equipment.
Finding a qualified technician for HVAC repair shouldn't be a difficult task. But the average person doesn't know where to begin when it comes to locating a reliable air conditioner repair company and that can often complicate the process. It's important to work with an HVAC contractor that you can trust to install your system properly and provide service when needed.
If your home or business is equipped with an HVAC or similar AC system, it can be an easy, comfortable way to manage the temperature. Unfortunately, when these systems break down, it is not as easy as replacing a single unit to get back into working condition. More often than not, you need expert service and technicians who have the experience and technical know-how to fix and potentially replace full systems properly. Here at Rowlett Air, we take pride in our work and are confident we can fix any HVAC unit that needs repair. We've had years of experience working with a wide variety of HVAC, AC, and heating systems and understand that attention to detail and quality workmanship goes a long way to satisfying our customers and getting the job done right. If you need air conditioning repair or heating system diagnostics, call Rowlett Air today, Rockwall, Texas' premier service center.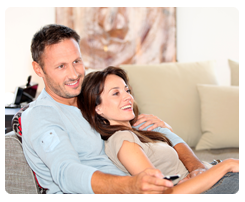 Protecting your Investment with a Reliable Rockwall HVAC Company
You don't need to accept the first bid that you receive. Ask for bids from several contractors and take the time to make comparisons. If you have doubts about any company continue your search until you find one that meets your needs and that you feel comfortable working with. Don't simply accept the lowest bid because it seems like the cheapest offer. Ask the contractor to explain how he arrived at his estimate. Your heating and cooling equipment is no place to cut corners but still, you want to spend your money wisely and get the best value.
A reliable HVAC Company in Rockwall is important for the successful installation and operation of your HVAC cooling system. A qualified contractor will behave in a professional manner. If you have an appointment the HVAC contractor should arrive on time. If he is going to be late he should call you. Their offices and trucks should represent the level of their business.
Don't simply accept the lowest offer. You want the best bid and that's one where you will get quality equipment and service at the best price. Heating and air conditioning is a valuable part of your home or business and you need to know that your Rockwall HVAC company will be there when you need him.
A Rockwall HVAC Contractor: What to Expect
Check that any contractor you might want to hire is insured and bonded. Any contractor should also carry workers comp and be bonded to protect you and your home from any damages.
Check to see how long they have been in business. BBB A+ Raiting A reliable company or individual contractor should openly offer a business address and phone numbers. Without an actual address or other contact information, you have no way of knowing the contractor will be around if you need repairs on equipment that is still under warranty.
What type of tests does the Rockwall HVAC contractor perform to ensure your home or business is safe from carbon monoxide? How do they handle the recovery of refrigerants to make sure they are properly disposed of and don't contaminate the air? If an HVAC contractor works with refrigerants he should definitely carry an EPA license.
Do you need to Replace Your HVAC
System?
If you're looking for a new installation or upgrade of an older system, a qualified Rockwall HVAC contractor needs to make a visual inspection of the site or existing system. If any contractor attempts to give you an estimate over the phone without first checking out your project or investigating a problem in person you should avoid doing business with them. It could be that they are less interested in quality service than they are in the financial gain.
The HVAC contractor will run through a complete checklist as well as determine the square footage of your home or business in order to run a heat-load calculation for the structure. The HVAC contractor can then write up an estimate for a new system or parts for an existing one as well as labor charges. If you need a new system, a qualified A/C company can often provide you with a selection of systems to suit your situation. Financing may be available with your HVAC system as well as an extended warranty.
If you have an older system that is no longer efficient, a Rockwall Air Conditioning company will ask specific questions and run a number of tests to pinpoint the problem and find solutions. Sometimes a heating or cooling system is simply the wrong size and a knowledgeable HVAC repair company will be able to suggest the appropriate equipment to adequately meet the needs of your home or business. Over time you may find that the proper size system will be more energy efficient and therefore more cost-effective.